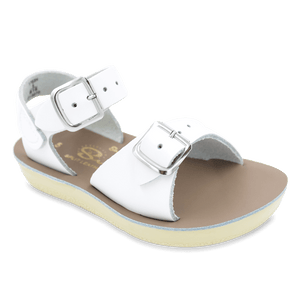 Sun-San® ­Surfer
The Sun-San® Surfer is a classic two strap sandal that's perfect for younger feet. An adjustable toe buckle and ankle strap make them great for both wide and narrow feet. Wear them comfortably all day long thanks to the lightweight, cushioned urethane sole. Rust-proof brass buckles and scuff-resistant water friendly genuine leather make them ideal for in-and-out of water wear. They clean up so easily, and with proper care will last for years.
waterproof leather uppers

polyurethane coating to protect from scratches

Double solid brass buckles with chrome finish allow for width adjustment.

flexible, lightweight waterproof urethane soles.

Available in many color choices

Sizes ranging from Infant Size 3 to Child Size 3.
(Approximate measurements are taken from heel to toe on the footbed INSIDE the sandal)
Size 3-----4 3/4 Inches
Size 4----5 1/8 Inches 
        Size 5----- 5 3/8 Inches        
Size 6----- 5 3/4 Inches
Size 7------- 6 1/8Inches
    Size 8--- 6 3/8 Inches       
  Size 9----- 6 3/4 Inches 
Size 10---- 7 1/8 Inches
Size 11----7 3/8 Inches       
Size 12---- 7 3/4 Inches
Size 13----8 1/8 Inches
Size 1Y---- 8 3/8 Inches
Size 2Y---- 8 3/4 Inches       
Size 3Y---- 9 1/8 Inches
**PLEASE NOTE!  Due to Manufacturer Restrictions, this item is not available for International Shipping.  Will ship to US addresses ONLY!**